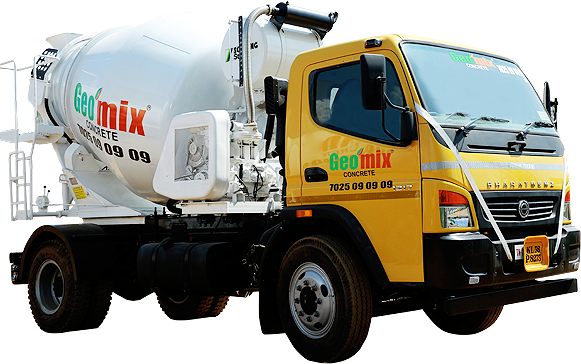 Benefits of Geomix Ready Mix Concrete (RMC)
Geo mix provides Ready-mix concrete at a less price than normal site mixing concrete without any compromise in the quality. Geo mix concrete is prepared in a fully automated plant. Ready mix concrete is a tailor-made concrete which improves durability and sustainability. Instead of purchasing the raw materials by individuals and experimenting every time with handling and proportioning, it would be far better idea to entrust all these activities to some expert supplier who is having a professional acumen.
Geo mix concrete is 100% eco-friendly ready mix concrete, so engineers and construction companies are choosing readymix concrete than normal site mixing. By choosing Geo mix concrete you can Eliminate use of procurement / hiring of plant and machinery also it avoid wastage of basic materials and labours.
Using ready mix concrete in construction significantly reduces cost by reducing material wastage, lowering labour costs and reducing storage costs. Quality control for on-site concrete has always been a major concern for the engineers and construction companies.Water-cement ratio and grading of the aggregates are next to impossible with the old fashioned concrete. With Geo mix concrete, quality is always ensured as we use state-of-the-art machineries and testing equipment. *Since ready mixe
Delivered at a lesser price than normal site mix concrete.
We have in house laboratory with sophisticated equipments confirming the quality of concrete, as well as raw materials used in producing concrete.
Sample cubes are taken from each site during delivery and tested for compressive strength at 7th and 28th day respectively to prove the strength of concrete.
Weighing slip provided with truck mixer authenticating the quality of concrete.
Pumping the concrete up to a height of 25 floors.
Fully automatic weigh mixing, so uniform and error free mix.
Eliminate storage hassles since no need of storing cement, aggregates, sand, water etc your site.
Improved quality of concrete translates into enhanced long term durability of concrete, thus minimizing the maintenance and repair costs.
Saving from reducing about 90% manpower at the site.
Saving from reduced project time, about 10 times faster than normal site mix.
The plants are located in areas zoned for industrial use, and yet the delivery trucks can service residential districts or inner cities.
Better quality concrete is produced.
Elimination of storage space for basic materials at site.
Elimination of procurement / hiring of plant and machinery
Wastage of basic materials is avoided.
Labour associated with production of concrete is eliminated.
Time required is greatly reduced.
Noise and dust pollution at site is reduced.
Reduce cost.
When arriving to the site the concrete transport certificate must be checked for desired characteristics of ordered concrete (quantity, class, maximum aggregate size, slump, temperature, type cement etc.) and time duration of transport.
Concrete shall be delivered to the site and discharged from the truck completely and in the forms ready for vibration within 1-1/2 hours after batching.
Concrete shall be placed in maximum 15 minutes after its arrival to the site, and the finishing of placement will take place before the cement starts setting.
Concrete shall be stored / deposited as near as (physically and economically) possible to its final position, in crane hoisted buckets, concrete pumps, chutes etc.
The receptacles used for the transport and deposition of concrete shall be cleaned and washed out at the end of each day's work and whenever concreting is interrupted for more than 30 minutes.
If the concrete, due to transport, is segregated. It should be mixed again on clean platforms, without adding water, if not possible the batch should be refused.
---